Custom Business Skywriting
How's Your Business?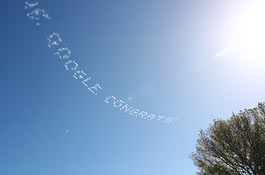 Looking to soar above the competition? With a team of five highly skilled pilots, skywriting can deliver amazing messages written across the sky – literally stretching one horizon to the other! Flown at 10,000 feet – this type of aerial advertising can practically be flown anywhere – even Long Island – and it is the only outdoor advertising that can be done directly over New York City! If you are wanting to deliver a message that will have all eyes on the sky, Skywrite Aerial Advertising can deliver both a captivating airshow as well as an effective means of communicating for your company while accomplishing major branding. Whether it's a special event or you are looking to capitalize off the millions of impressions – you will be joining companies like Google, Virgin Atlantic, Jet Blue and many others that have found skywriting to be an effective outdoor advertising medium.
Click here to watch the skywriting video.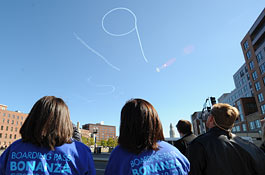 With using the five aircraft team – clients are able to have 23 characters per a line and potentially up to 30 lines written across the sky for each flight.
Flight Restrictions
With many forms of Aerial Advertising there are flight restrictions that prevent or restrict the flights. However with few exceptions, skywriting can be flown over any event or city – including all sporting events like NFL, college football, Major League baseball, etc. This advantage allows the advertiser the ability to capitalize during prime times when otherwise restricted.