Personal Skywriting Services
Make Unforgettable Memories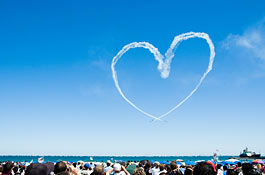 Do you want to have a sky high marriage proposal? Or tell that special someone that you love them like no one else could ever dream of? If so skywriting is the way to go! A skywriting message will create lasting memories filled with fun. It will be like having your own private airshow!
Skywriting messages are often best short and sweet! Due to how long the message will last in the sky (approximately 30 to 60 seconds) a short concise message is the way to go. Messages like "I love U" or initials and a heart are common messages you will see. With these type of messages one aircraft is used and the message is limited to ten characters.
Common personal skywriting messages are:
I Heart U
I Love U
Happy B Day
Marry Me
I'm Sorry
Click the play button to see skywriting in action.