Skywriting Aerial Advertising Rates
SKYWRITING COST
Ranges based on venue and length of message.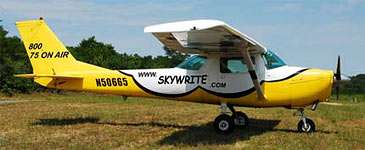 Personal skywriting messages prices are based upon several different criteria such as: location, date, and the length of your message. Because of these different variables, you will need to contact us directly with this information in order to obtain a quote. Higher prices may apply for special events such as the Super Bowl, etc. while some flights may be given discounts.
Looking for other options that may fit better into your budget, click here to check out airplane banners.
Contact us now for a free, customized skywriting quote.